The introductory Zen Meditation at the Magpie Bookshop in Catskill will continue every Tuesday starting in January and continuing through February 2017 (except January 17th.) Sitting on an odd assortment of vintage chairs surrounded by shelves of inviting used books, our group is an easy way to experience Zen meditation.
Please arrive between 9:45 and 10am. Door is locked at 10:05
In each one hour session I talk briefly about the "four legs" of Zen meditation as I have set out in Dharma Delight:
• Posture – Sitting in the style of Buddhas past and present.
• Breath – Counting the breath as the most basic act of existence.
• Thoughts – Looking at thoughts with curiosity letting them pass.
• Community – Sitting together in supportive groups.
After the introduction we have a 10 or 15 minute meditation period, a quick stretch and then 25 minute meditation period, followed by a group discussion.
Magpie Bookshop is a lovely used bookshop at 392 Main Street in Catskill NY. Cozy with a great selection of used books, the shop has become a hub for local readers, writers, artists and musicians to meet.
The meditation is free, but we do have a jar for a suggested donation of $5. All the proceeds go to sustaining the bookshop.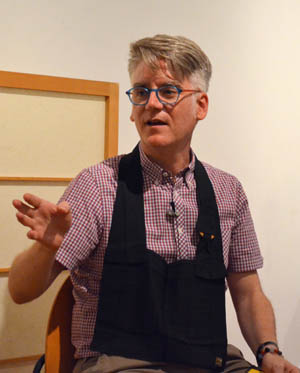 Musho Rodney Alan Greenblat is a senior student and an administrator at the Village Zendo in New York City. He now lives in the town of Catskill NY where he works as an artist and designer. More about Musho here