Please enjoy my latest album of original music. 24 tracks mostly from the year 2020 and mixed and finished in May 2021. One full hour of unique Rodney electronic music adventure.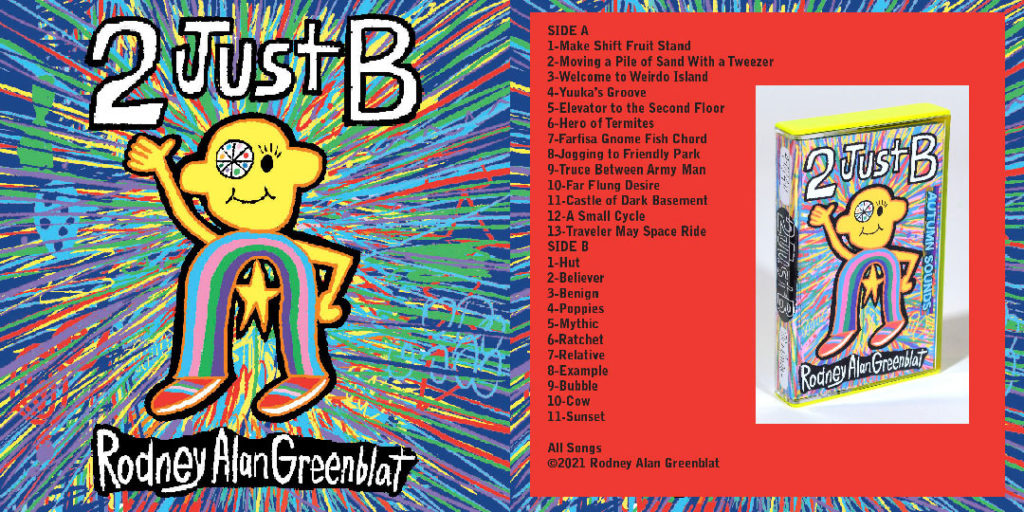 There was a limited edition cassette of 40, sold out from AUTUMN SOUND Bandcamp page for $25. Each was signed and hand numbered and included a one-of-a-kind HAND DRAWING on the inside cover! It's really was a work of art in the form of a cassette tape that you can play and enjoy! Of course it seems that tape cassettes went out of style 40 years ago, but look out they are coming back! Who knew there is a market out there for the analog sound of tape? But let's say you don't have a cassette deck anymore, or maybe the deck in your 1977 Chevy Vega is not working. In that case you can listen right here:
On my BANDCAMP.COM page you can buy the digital album for only $5. The digital version was not created on tape, but there are a few warbles anyway and plenty of analog synth joy.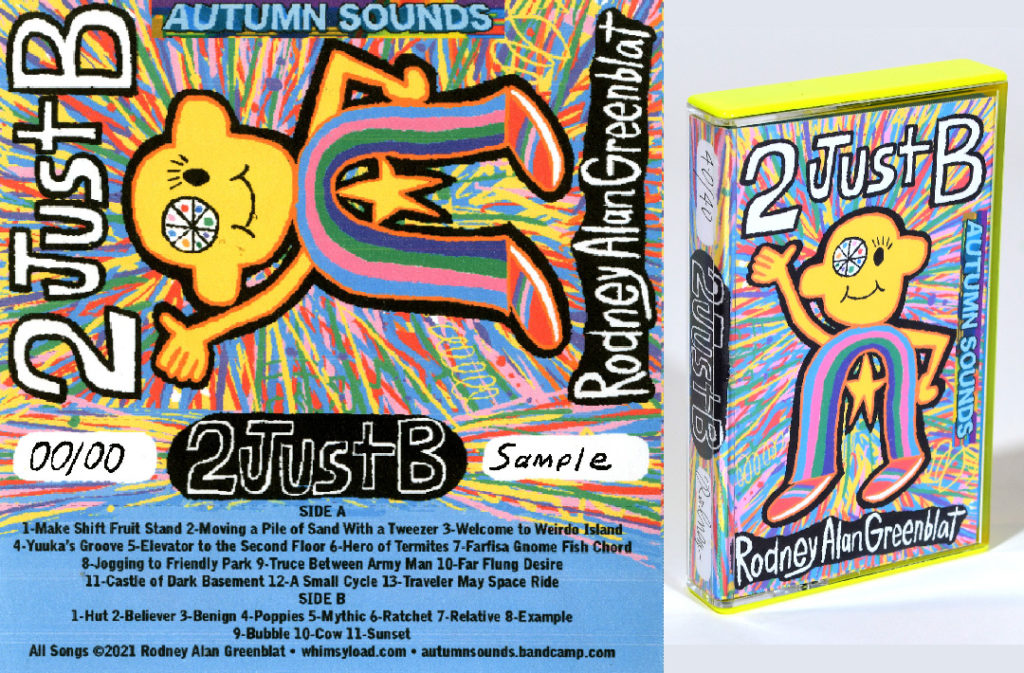 The idea behind 2JustB is pretty simple, to just be myself. Of course it's impossible to be someone other than yourself, but it is easy to wonder "how can I fit in?" So it is when making music where categories seem so important. When people ask me what kind of music I am making I wish I could name an easy to understand category like "Electronic Dance Music" or "Punk Rock" or "Minimalist Classical" but none of those are me. As I was making all this music, wondering though loops, sound patches and titles with no direction, I had about 10 songs and began to self-criticize. "It doesn't fit in anywhere! What kind of music is this? What am I doing?" In meditation I would feel the anxiety this was causing collecting in my shoulders and pushing me towards nothing. After a a while I decided to just be.
When I have to describe it or add "keywords" or "genre" to a listing, I say "experimental" which is true. It is an experiment. There is a lot of freedom there because experiments don't have to work. That's the whole idea of an experiment. I think for most artist's the practice of making art is always experimental. One experiment leads to another, and if the desired outcome appears, great! – but if not, on with the experiment.
SIDE A
1 Make Shift Fruit Stand
2 Moving a Pile of Sand With a Tweezer
3 Welcome to Weirdo Island
4 Yuuka's Groove
5 Elevator to the Second Floor
6 Hero of Termites
7 Farfisa Gnome Fish Chord
8 Jogging to Friendly Park
9 Truce Between Army Man
10 Far Flung Desire
11 Castle of Dark Basement
12 A Small Cycle
13 Traveler May Space Ride
SIDE B
14 Hut
15 Believer
16 Benign
17 Poppies
18 Mythic
19 Ratchet
20 Relative
21 Example
22 Bubble
23 Cow
24 Sunset
Tech notes:
Software: Ableton Live 11
Hardware Synths: Moog Little Phatty, Moog Subsequent 37, Teenage Engineering OP-1, Nord Lead 2
2JustB
©2021 Rodney Alan Greenblat