In 2021 I was fortunate to join the Sho+1 Gallery in Tokyo. Although it is a relatively new gallery started in 2017, I've known the owner for many years and he has been a long time follower my commercial work in Japan and also my fine art practice. The gallery is located in the Ueno area of sprawling Tokyo which is as-far-as-I-know a new place for fine art galleries. Ueno is famous for Ueno Park and nearby Tokyo University. I've been there a few times and it is a great place see museums, a zoo, stroll around a huge park and explore many interesting shops and restaurants. I'm like a tourist guide for Ueno!
Because of the logistics of working with a gallery in Japan we have decided to focus on building new relationships with collectors and fans featuring new small works. At first I saw this as a limitation, but it has turned into a opportunity to work at a comfortable scale, and explore my urge to make magical toy-like beings.
I've started a new series of constructions which I'm calling "Wooden Robots." The forms are inspired by my usual deep-brain muses, Gumby, Alexander Calder and Pop-Art with additional love for retro science fiction spaceship control consoles. Plus an obsession with electronic musical instruments with lots of knobs, buttons and lights.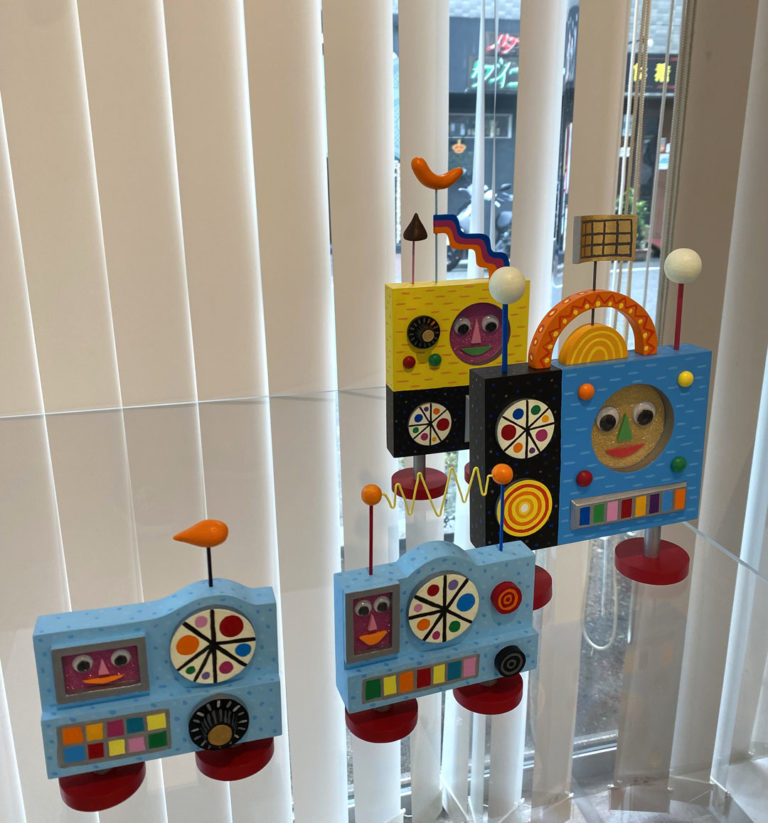 So far I feel like these constructions are trying to say something positive about technology: that it can be fun and non-threatening – instead of the usual "Terminator" or "Matrix" apocalyptic storyline. Maybe I'm trying to suggest a re-consideration of the technology designs around us and re-introduce color, play and imagination to the minimalist black and silver boxes that are pervasive. (I'm typing on a metallic gray smooth minimalist laptop as I write this.)
Fortunately I do not know what the meaning of Wooden Robots is. That will be your job as followers and collectors of my artwork.
Models 1 and 2 are about 6 inches high. Model 2 is 13 and Model 4 is 11 inches high. The materials are acrylic paint on wood, with wire, ceramic elements, glitter paper, craft foam rubber and wiggle eyes. All four created spring 2022.