Sometimes things get lost. A project gets put into a box just for a few weeks to get it out of the way, and then 16 years goes by. That's what happened to these art prints that were made in Japan in 1998. I think these small prints were made to sell at the "gift shop" area of a exhibition of my work at a department store in Tokyo. It's typical at the end of a departments store art show for there to be some goods by the artist for sale. I must have asked for 100 copies of each of the prints to bring back to NYC to sell on my website. That was the plan. I did have them listed on my old site in the category of "posters" but they are really too small to be posters. Recently as I was doing some inventory I came across them and have decided to re-list them on my new site with a lower price.
"Mars" was all done in red and black, and it shows a dysfunctional architectural monument with suburban houses on a giant whirligig machine. There are electric guitars and wild flying propellor head characters. It has a rocked-out a tattoo art quality to it.
"Bounty" I think is even better and more weird. In full color the same suburban house it sitting on a cartoon cloud, surrounded by various characters, and peas and cubed carrots fill the atmosphere. The TV is really menacing, and the outhouse on the sandwich could be interpreted in many ways.
In 1990 I started experimenting with Adobe Illustrator software, hoping that I could make some kind of gallery worthy art with it. Illustrator was really hard to use on the super slow computers at the time, even so, I decided to feature computer graphics at my show at the wonderful PPOW gallery in 1992. For art collectors of the time, computer graphics were neither prints nor photographs, and did not seem to be "hand made" by the artist. They were a weird novelty, and did not fit in with the other work I was known for. On top of that, these images were more oddly subversive than most of my work from the time, I think also adding to their unpopularity. Now I'm offering both of these lost and unpopular (great) artworks in their "mini poster" format as a set for $12.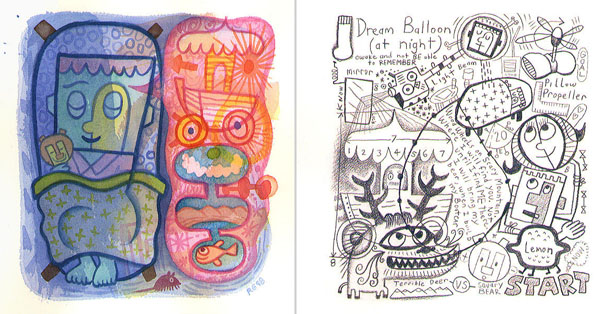 These lost prints were also for the same 1998 show in Tokyo, and Interlink published another set of mini prints, this time from a watercolor and an pencil drawing that went together as a set. In "Dreams of a Passion" a boy dreams of a magical boat. Latter he makes a pencil drawing and tries to add all the details and thoughts of the dream. "Dreams Balloon At Night" sketches out the many details of the dream including a scary deer and a pillow propeller. Lots of weird stuff going on, and very rare to make a print from a pencil drawing. The high quality offset prints are printed on heavyweight paper: 10 X 11.25 inches each. Image sizes  8 x 7 inches each. Published by Interlink in Japan 1998. Freshly signed with a 2014 signature, both for $12. Hooray for unpopular art.