On March 23, 2014 my artwork was featured at the Fukushima Revival festival in the city of Koriyama in Fukushima prefecture, Japan. The event was organized and sponsored by the Fukushima Tourist Association and Fukushima Cho TV. The festival is meant to bring the Fukushima community together, as they heal from the earthquake and tsunami of 2011, and the ongoing disaster at the Fukushima Daiichi nuclear power plant. My agent in Tokyo and I had been working with Fukushima Cho TV for a few years before the disaster, but after we found that my artwork could be used to give hope and cheer to a devastated area. For the 2014 event they asked me to design a billboard sized poster showing the Miharu Takizakura, the huge ancient cherry blossom tree that lives in the village of Miharu. I visited the tree in November or 2014, and made some sketches.
At the festival participants were given cherry blossom shaped stickers to write a message on, and then the blossoms were attached to the artwork. Here is a photo of the process: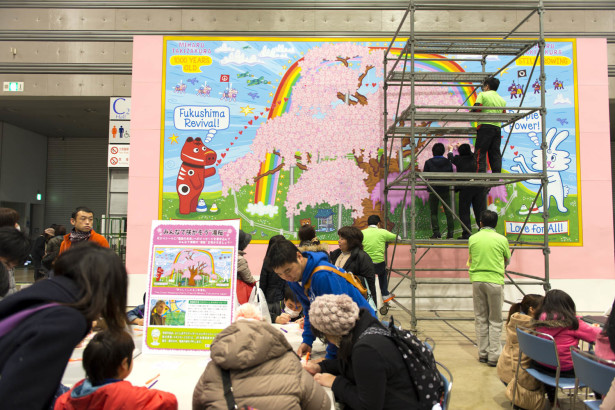 I'm really sorry I was not able to attend, because it looks like fun. There were many other activities. Here you can see kids and mothers working on the cherry blossom stickers. A total of around 1600 stickers were placed on the tree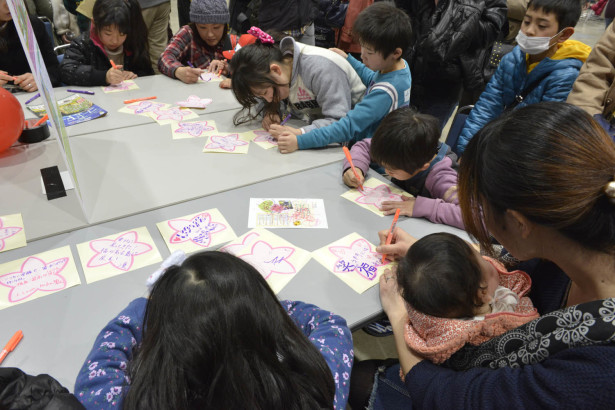 A cheer for Fukushima. All of us on this world who use electricity should look closely at the continuing un-natural problems in Fukushima caused by the natural disaster. Nuclear power plants make nice cheap electricity, but when they fail, the cost is much much higher. Higher than the cost of designing and building sustainable energy sources. Three years after the earthquake, the plant is not completely stabilized, and nearly 80,000 residents are still unable to return to their towns. As of this writing a few hundred have been given permission to return to towns inside the edge of the evacuation area, but it is a risky choice. In my opinion Fukushima is one of the most important places on earth, because it is an example of a future that anyone who lives near a nuclear power plant may face.